A family gathering over the weekend was probably one of the best times I have spent so far this year.
My daughter turned 34 and I decided being the big kid that she is, that she would have a bouncy castle and was very excited to see how the grandchildren would react to finding this Fortnite creation in my garden when they arrived.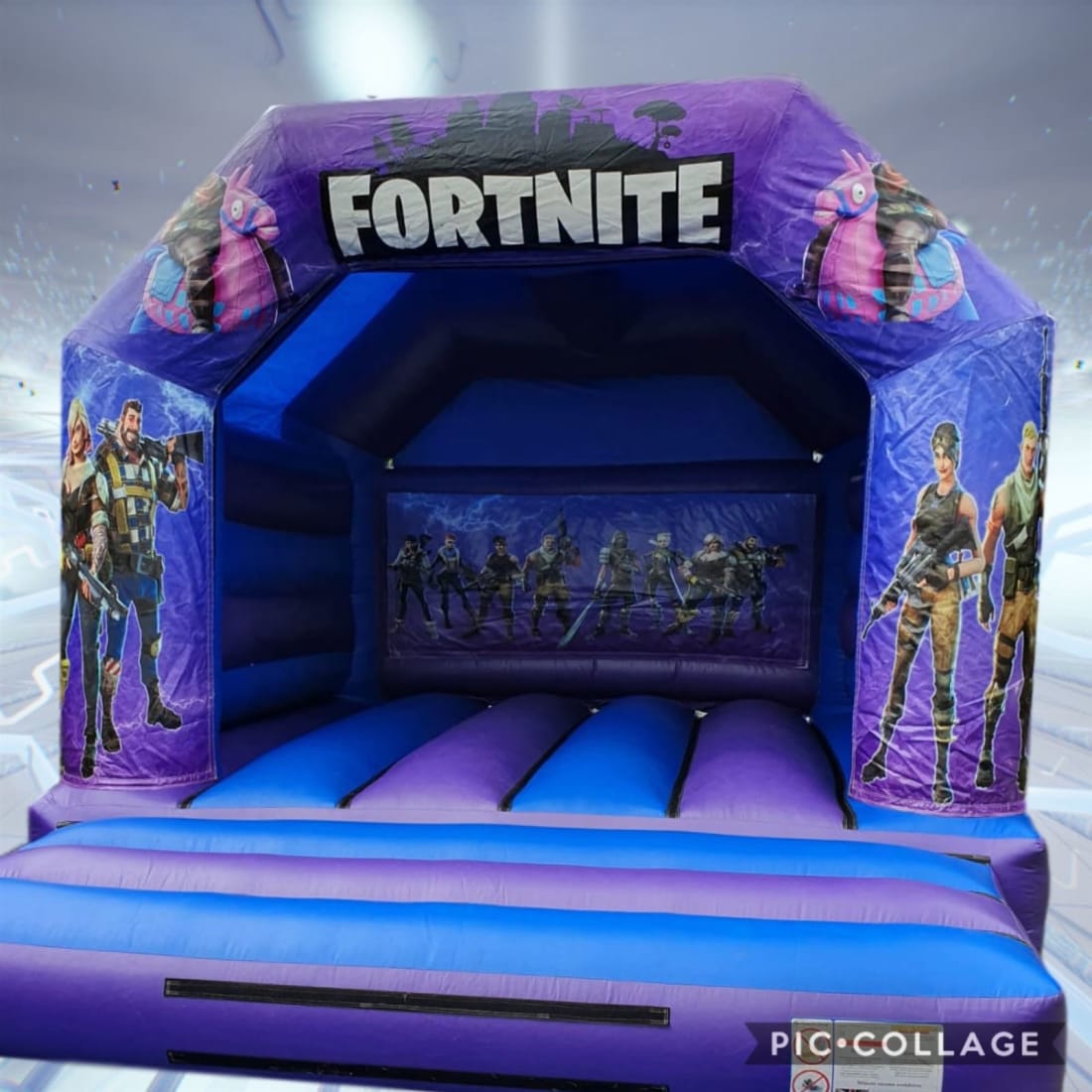 There was the ordering of the cakes a week before and typical to my family some like chocolate, some like jam sponge, and then the lady who makes my cakes make a speciality of school sponge so promptly ordered all 3 with unicorn cupcakes thrown in for my grand-daughter who is unicorn mad.
The birthday girl arrived and there was a rush out into the garden of 3 very excited grandchildren who showed their appreciation by screaming their delight, and then promptly bouncing all over each other in what looked like an episode of WWE.
My son in law turned up with his dad and it is one of those unusual quirks where the grandparents actually get on. Much apologies from grandma who was babysitting her other grandchildren and then grandad disappeared. Off to the bouncy castle he went. What is it about a bouncy castle that adults cannot resist?
The screams, the pile ons and the exhausted look of one grandad showed proof that he had had more fun that the children. This continued with not only the other grandad getting on there, but also dad and that was it and I must say thank you to the neighbours for putting up with the squeals till 6pm that night.
My daughter who had brought her friend Lorna were helping get the food ready as I was nervously waiting for the guest of honour….no not the birthday girl but my mother. Everything had to be perfect as my mother is a former soldier and she can spot dust a mile away, so everything had to be perfect as in her days she was the party goddess.
My son in law who had been a godsend during the pandemic went to collect her and we were on countdown.
My youngest grandson Jacob would not wait for everyone else and started tucking into the food himself. He especially likes cocktail sausages and promptly walked off with them. Good job a spare set was already cooked. You get used to your grandchildren and their habits and I know that Jacob has a weakness for them and he went and sat at the table quite happily tucking in.
The door opens and Her Majesty my mother made her entrance. Of course there was the fuss and the hugs and kisses hello, and the comfiest chair had to be found with special pillows for her to sit on. Nothing could be too much for her and then Jacob promptly thrust food in her hand whether she wanted it or not. Like me, she is used to her great-grandchildren and loves them to bits. The fact that the youngest two are autistic never holds them back when they are with their family.
So, there is the scene….nan, grandad, grandad, great nan, mum, dad, friend and 3 all enjoying the afternoon outside.
The price of hiring the bouncy castle was well worth it and it was £50 well spent. The funniest sight was having to get the dog off as he wanted to bounce as well. I think he wanted to join in the pile on as it looked great fun, and gone was the normally docile dog who doesn't bark…he was barking to join in the fun and it is funny seeing a dog trying to walk on a bouncy castle…… Took his mind off it with a succession of new balls.
The food was just sandwiches, sausage rolls, cocktail sausages, crisps, eggs, hot dogs and of course the cake which had 34 candles between them. At that exact point I wondered where life had gone as I can still remember the day this little bundle of joy arrived and now she is a mother of 3 and towers above me. I am 5ft 7″…and I am tiny compared to my children. My poor mother at 4ft 11″ just sat there whilst getting kisses on top of her head like something out of a Benny Hill sketch. We both agreed that our eldest grandson/great grandson was going to be tall as he too towered above me at only 13….
Where does the time go?
Even the rain didn't dampen the great time and I am grateful to the suppliers of the bouncy castle for putting a tarpaulin over the top to keep it extra dry, and within an hour the rain had stopped and the sun had come out. Of course I took the opportunity to get everyone to sit in the garden and see the hard work that had been put in with the roses. When the bouncy castle firm arrived they had put in protectors of the roses (think it was more to do with the thorns), but it protected them brilliantly and my roses were not damaged thank god….although the fingernails were on the verge of being bitten due to the nervousness at the thought of them being hemmed in by what was a very large item.
By this time my daughter and her father had decided that the bouncy castle looked good fun and off they went. Mr Points of Sue was piled on by the kids and it seems that all children when on a bouncy castle suddenly want to turn into wrestlers, and of course their target was their mum and she and them were having a competition to see who could jump the highest. Seemed a tad unfair especially as she was the tallest there but the laughter coming from the castle meant they were having a good time.
A couple of hours later the exhausted adults were sat in the patio area and we just marvelled at how much energy the children had. I think they even exhausted my mother just watching them. Of course age is not kind as I know if she had been younger she would have been on there, but she enjoyed watching them. It still makes my grand-daughter ask questions with regards her mum's mum mum and it is something unique when you have 4 generations together for a sunny afternoon of fun, joy and games.
As the afternoon went on mother got tired and she was taken home, and the other grandad left with cakes for all and unicorn cakes for his other grandchildren. Mother had taken cakes for all her friends in the retirement village and still the children carried on playing.
Come 6pm the firm showed up to pick up their castle and I think they were happy I said earlier as the football was on. Of course there were the tears of my youngest grandson who by this time was bouncing on reserve batteries, and he needed a bath to calm him down, but fun was had by all.
Following baths all round for the children the computers were switched on, and they took up their usual positions when visiting…all at the computers playing the same game.
I must admit it was a perfect way to spend the day and I am glad I did it this way as it melted away the last year and the times I could not see the children, nor spend the day with my daughter on her then 33rd birthday. I was determined that this was going to be one of fun and laugher and we all needed that.
Lorna promptly left with a goodie bag of cake, sandwiches and other food and my daughter then went off to her cousins for a grown up dinner party. By 10.30pm the children were exhausted and in their beds at my home and Jacob went to bed with a smile having been informed that the bouncy castle is booked for my birthday next month and it will be kept overnight, so that he and his siblings can carry on bouncing throughout the night and of course mum and dad will probably book a night out then too. The same people are invited along with the neighbours and their children so….bigger pile on next time.
It didn't cost a great deal to put on the party but the hours together created wonderful memories for both the children and the adults and with freedom day coming up, it was a great way to start our own as I am not going to spend anymore time away from those who matter the most because being without them is not living, it is just existing and the sounds of laughter from the children are priceless.