As some of you may know I am an amateur gardener….very amateur and it is very much a case of trial and error…but I seem to be getting there, and I am going to brag here as my neighbour can see into my garden when they open their bedroom windows and he said the garden looks stunning especially the roses, but he loves the colours of the garden full stop.
I decided to fill in the empty gaps with heather as it is great for the winter months, and it does not need a lot of TLC….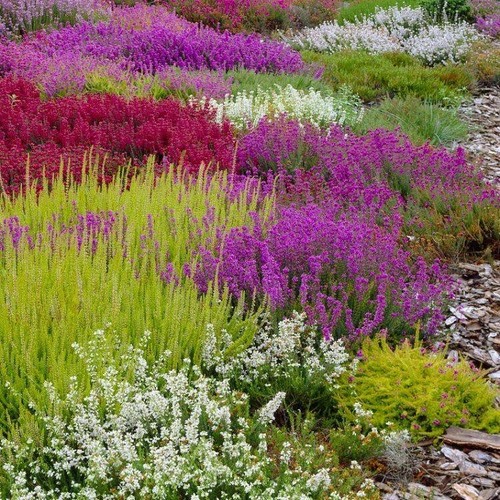 When you prepare the hole for the plant, make sure you have watered the area first as it does like the area well watered before going in. Then, when you take it out of the pot be gentle with it as it can be a little fragile when small…(they don't stay fragile and are very hardy fighters).
The roots can be wrapped around the bottom of the pot so….just squeeze and the roots will be released. Then, gently put it in the ground and place the soil compacting tight as the heather grows better that way. When you have finished the planting you can put some stones around, or like me I put bark down in all the area as it keeps the roots warm during the winter months and watch the plant grow. Try and put the bark down around all your plants as it really does help with the frost and snow and it helps keep the ground moist in summer too.
The reds, blues and purples are gorgeous and I have added some yellows, oranges and greens and the ones I put in a year ago have already grown about 1/2 a metre already and they are great, but when you plant them first use some great natural food for it. I tend to put a banana skin in water for 24 hours and then water it down further in the watering can and give it a further soaking. The goodness from the banana skin juice is a great natural food and certainly does the trick.
Try to feed it once a month using the banana water and you will not be disappointed as the colours are stunning and cheer up your garden in the not so nice coming months. They are hardy and survive all year round and I cannot wait to see the growth for next year.
You can buy 3 for £5 from Asda, or from any garden centre for a couple of ponds each and they are quite simply a stunning add on to your garden, but remember to leave a small gap for them to grow, although they look just as stunning when they eventually cross over.